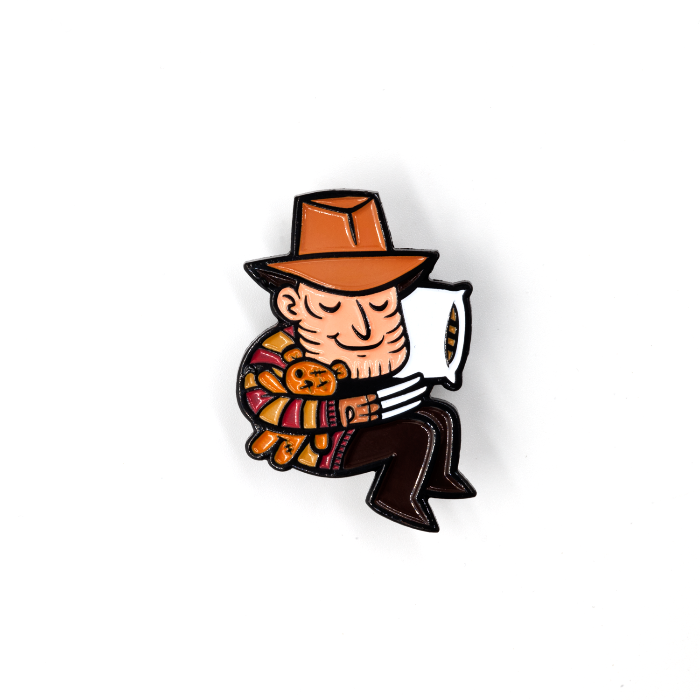 Translation missing: en.products.product.price.regular_price
$14.00
Translation missing: en.products.product.price.sale_price
$14.00
Translation missing: en.products.product.price.regular_price
Sweet Dreams Freddy Pin
Translation missing: en.products.product.price.regular_price
$14.00
Translation missing: en.products.product.price.sale_price
$14.00
Translation missing: en.products.product.price.regular_price
Product description
Product reviews
Sweet Dreams Freddy Pin
Introducing Freddy Krueger like you've never seen him before: Sweet Dreams Freddy Pin. That's right, the iconic nightmare-inducing slasher is taking a well-deserved power nap, and he's here to haunt your sense of humor in a whole new way.
Freddy, the master of nightmares, has met his match – exhaustion! In this hilarious pin, he's sawing logs, or should we say, slashing snores, with a grin that says, "Even dream demons need beauty sleep, too!" His trademark clawed glove is now gripping an adorable teddy bear instead of someone's neck, and his menacing burn scars? Well, they've turned into the cutest cheeks you've ever seen on a horror icon.
Wearing the Sweet Dreams Freddy Pin isn't just about flaunting your twisted sense of humor; it's a declaration that even the most fearsome monsters need their beauty rest. So, pin him to your jacket, backpack, or hat and let Freddy remind you that laughter can conquer nightmares, even when you're dealing with the most fearsome dream invader of them all. Sweet dreams, or should we say, funny dreams!
Sweet Dreams Freddy Pin
Art by Philip Tseng

Details:

Approx. 1.25"
Soft Enamel
Two Black Rubber Pin Clutches

The perfect pin
This pin came with another I ordered. They arrived quickly and are great quality! Would definitely buy from here again!
Great Gift
I bought this as a present for my boyfriend and he loved it!
Worth it.
Been wanting to collect horror enamel pins. The quality's well made and it's just super cute. Worth the price!
Good quality, fast delivery
I was very impressed that this pin is bigger than I thought it would be and just as adorable as the picture. It's sturdy and I can't wait to wear it. Delivery was within a few days too. Very happy with my purchase.
Super cute!
Love it and came right on my birthday! Hehe this little fella was dancing the night away with me. Love him super adorable! You guys should do the mermaid chun li and mermaid peach. Hehe love them super cute!